Tito's Jumbo Kosher Dill Pickle 6ct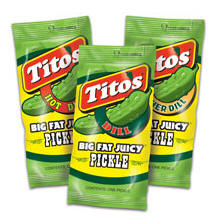 Tito's jumbo individually wrapped pickles are the pickles for people that love to eat pickles! This is the Jumbo Dill that generations have been enjoying at movie theatres and stadium for years. Tito's pickles are uniquely packed especially without brine (juice) eliminating spills and accidents.
Tito's individually wrapped pickles come in two exciting flavors. Our Kosher Dill is our Big Fat Juicy Dill with Garlic added. Last, but certainly not least is our Big Fat Juicy Hot Dill. Tito's was built on jalapenos and spicy peppers and located in South Texas. In other words we know about HOT. This pickle is no exception.