****
Mini Thin 25/50
Mini Thin 25/50 is an herbal dietary supplement from DBI Distribution. DBI Distribution is committed to bringing its customers the best in over the counter dietary supplements. Mini Thin 25/50 is an ephedra free diet pill that can help you boost your energy and burn fat.
What is Mini Thin 25/50
Mini Thin 25/50 is a safe and effective weight loss supplement. Mini Thin 25/50 has a unique blend of ingredients that basically guarantee weight loss results. Not only does Mini Thin 25/50 contain caffeine, but also the green tea and white willow bark extracts are sure to assist you in reaching your weight loss goals.
Ingredients in Mini Thin 25/50

Serving Size: 1 Capsule
Servings per Container: 36
Caffeine Anhydrous – 200mg
Bitter Orange Peel Extract – 83mg
Proprietary Blend: Asian Ginseng Extract, Ginger Root Extract, Green Tea Extract, Kola Nut Extract, Rhodiola Rosea Extract, White Willow Bark Extract – 30mg
Benefits of Mini Thin 25/50
Mini Thin 25/50 is an excellent energy booster and fat burner. Mini Thin 25/50 can give you long lasting energy to power through your workday and workout. With the energy you get from Mini Thin 25/50, you can quickly burn more calories than ever before. If you have been feeling tired and not motivated to go to the gym, Mini Thin 25/50 is the right choice to help you fight your daily fatigue and achieve the body you desire.
To use Mini Thin 25/50, take one capsule in the morning, and one capsule in the afternoon.
Do not use if you are under the age of 18, or pregnant
Mini Thin 25/50 Reviews
Mini Thin 25/50 is a great herbal weight loss pill. Users of Mini Thin 25/50 have noticed a significant increase in their energy levels throughout the day. They have also seen a reduction in overall body fat.
As with any new medication, be sure to consult with your doctor prior to consuming Mini Thin 25/50. For the best results and to avoid side effects, follow the directions for use carefully.
NO RETURNS for these PRODUCTS
We cannot accept returns for these products
What is 5-Hour Energy?
5-Hour Energy is a two-ounce drink that gives you hours of energy with no crash and no jitters. It's packed with B-vitamins, enzymes and amino acids. It contains as much caffeine as a cup of coffee.

What will 5-Hour Energy do for me?
Imagine what you could do with more energy. You could be alert and productive in the morning. You could be wide awake after lunch instead of groggy. You could have plenty of energy for working out, going out or staying in. Travel fatigue could be a thing of the past. You'll definitely see less of your couch. Then again, you won't miss it. You'll be too busy doing the things you really want to do.

How should I take 5-Hour Energy?
For maximum energy, drink the whole bottle. For moderate energy drink half the bottle or less and re-seal. Discard remainder after three days.

When should I take 5-Hour Energy?
Keep 5-Hour Energy in your desk drawer, purse, backpack, locker or glove box so you can take it any time you need an extra boost.
Morning: To help you wake up, perk up and have a productive day.
Afternoon: To help you get over that after-lunch food coma and avoid grogginess on the road.
Evening: To energize you for a night out – or a night in.
Workout: To give you the energy you need to go the extra mile.
Weekend: To help you get more done around the house or have more energy for recreation.

Should I take 5-Hour Energy before working out?
Yes, 5-Hour Energy Drinks are great for energizing your workout and achieving maximum performance. It's also good for reducing after-workout fatigue.

Is 5-Hour Energy safe for children?
5-Hour Energy is not intended for children. Consult a physician before giving 5-Hour Energy to anyone under 18 years of age.

Is 5-Hour Energy like those canned energy drinks?
5-Hour Energy has many advantages over canned energy drinks:
• You have less to drink so you feel it working faster.
• It lasts for hours with no crash.
• Does not rely on tons of sugar and caffeine.
• Real energy comes from B-vitamins, enzymes and amino acids.
• You won't experience a "crash."
• Zero sugar and zero net carbs.
• Portable, re-sealable bottle.
• No need for refrigeration.
• Tastes better.

Why do I feel so hot?
You are experiencing a Niacin Flush. It is the result of the Niacin in 5-Hour Energy increasing blood flow near the skin. It will go away after a few minutes. A small percentage of people who use 5-Hour Energy experience this. To avoid a Niacin Flush try drinking just half a bottle and save the rest for later.

Who should not take 5-Hour Energy?
Consult a medical professional before taking 5-Hour Energy if have been instructed by a physician to avoid stimulants, or if you have any concerns about taking it. Not for use by children under 12 years of age unless directed by a physician.
Active Ingredients

Vitamin C
Vitamin C is an important ingredient for the formation of many hormones and neurotransmitters. It is also essential for healthy functioning of the immune system and the adrenal glands, which help our bodies react to stress.

Niacin (Vitamin B3)
Niacin helps your body to use carbohydrates and fat efficiently, is important to maintain a healthy intestinal tract and for healthy skin.

Vitamin B6
Vitamin B6 helps your body break down and generate amino acids, which are the building blocks of protein. B6 is necessary to help produce hemoglobin, which is the protein in red blood cells that carries oxygen to the cells in our body.

Folic Acid
Folic Acid is important for healthy red blood cells production, making new cells along your digestive tract.

Vitamin B12
B12 is important for proper nervous system function and for production of healthy red blood cells.

Tyrosine
Tyrosine is an amino acid that is a building block for several important brain chemicals that regulate mood.

Phenylalanine
An amino acid that keeps you awake and alert, reduces hunger pains, functions as an antidepressant and helps improve memory.

Taurine
Taurine is a very important amino acid involved in a large number of metabolic processes in the visual pathways, the brain and nervous system and cardiac function.

Malic Acid
An alpha-hydroxy acid found in cranberries and grapes; it is easily absorbed and completely metabolized for energy.

Glucuronolactone
Glucuronolactone reduces sleepiness and is widely known to improve mental performance, reaction time, concentration and memory.

Caffeine
A stimulant used to provide a boost of energy or a feeling of heightened alertness. It's often used to stay awake longer.

Enzyme Blend
Digestive enzymes to help you absorb 5-Hour Energy more efficiently.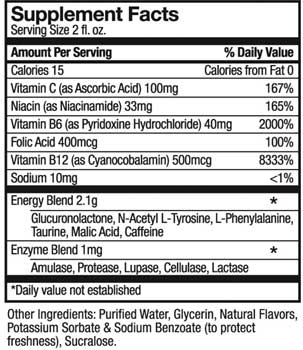 NOTE: Chronic fatigue may signal a more serious condition. Seek medical help if you suffer from prolonged, unexplained lethargy or weakness. But if you have an active lifestyle, or want to start an active lifestyle, and need extra energy to keep up, try 5-Hour Energy .

These statements have not been evaluated by the Food and Drug Administration. 5-Hour Energy is not intended to diagnose, treat, cure or prevent any disease.

Individual results may vary.