Big Slice Pops 48ct - $6.50
Big Slice Cherry Pops 48ct bags
Big Slice Pops 48ct - $6.50



Big Slice Pops 48ct - $6.50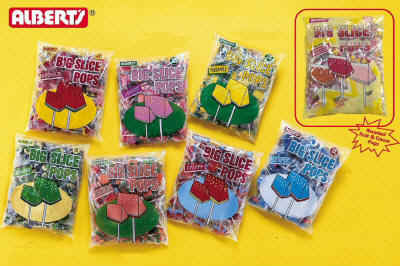 Each bag of Albert's Big Slice Cherry Pops contains 48 pops, a bag of individually wrapped, triangular shaped lollipops that look like a piece of fruit (1.81 lbs)

*

Once you tear into this yummy wedge-shaped sucker you'll be smacking and slurping that sweet cherry flavor until there's nothing left (at which point you'll promptly run to the nearest mirror to check out your bright-red tongue!).

*
Bag Contains: 48 lollipops

*

Ingredients:
Sugar, corn syrup, citric acid, artificial flavor, artificial colors (red 40, yellow 5, titanium dioxide), soy lecithin.

*

Ingredients and nutritional information provided by manufacturer and considered accurate at time of posting. Refer to product labeling or contact manufacturer directly for current data.
Big Slice Pops 48ct - $6.50



Big Slice Pops 48ct - $6.50
Big Slice Pops 48ct - $6.50



Big Slice Pops 48ct - $6.50