Generations of Americans
Depend on BC
BC® Powder has a heritage unlike any other pain reliever. In 1906, at their pharmacy in Durham, NC, Germain Bernard and C.T. Council formulated a new effective pain reliever. BC® Powder soon developed a loyal customer following. Since then, the BC® Powder tradition has been passed from generation to generation and friend to friend.
For 100 years, hardworking Americans have reached for BC® Powder for fast relief of even their toughest aches and pains. Millions of people today rely on BC to feel better sooner. BC® Powder is here for you, too - helping you to put in a productive day's work and enjoy time with family and friends.







Goody's Powders
Body Pain - Headache - Sleep
36ct - 24ct - 12ct - 6ct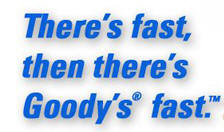 F

ind your Goody's® Headache Powder

No matter where or when you're hurting, Goody's® has the right formula to stop pain fast. Because they're powders, Goody's® dissolves fast. So you can get on with your life. Now find the Goody's® that's right for you.






What Kind of
P

owder® User Are You?

There are lots of ways to take Powders, but most of the variations fall into three main categories. Let Trace Adkins show you the ways to do it.

| | |
| --- | --- |
| | Hold your breath and pour the powder into your mouth. (The trick is to avoid the taste buds by either placing the powder onto the far back part of your tongue or under your tongue; whichever is easier for you.) Have water, juice, or soda ready to chase it down. |
| | |
| | Very simple. Open it, fold, dump on your tongue and swallow. Then casually continue whatever you were doing. |
| | |
| | Just open the powder and stir it into water, juice, or soda. Then drink it down. Be sure to slosh it around a little towards the end to mix in all the powder that might have settled to the bottom. |

:: Site Map ::
Shipping Policy I International Shipping I Returns Policy I Tracking
About Us I Contact Us I Credit Card Approval







1998-2014 Advantage Services - All Rights Reserved.
Site Design By EBRA Graphics