3 Musketeers Candy Bar
Box of 36 candy bars
3 Musketeers Chocolate Candy Bars - 36 bars
3 Musketeers Chocolate Candy Bars - 36 bars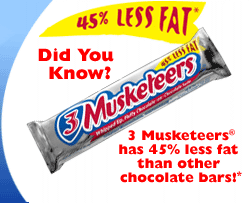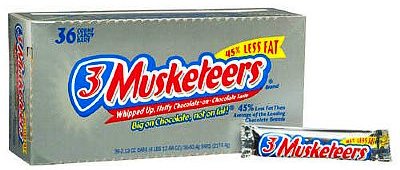 The 3 Musketeers was introduced in 1932 and originally had three pieces of candy in one package, flavored vanilla, chocolate and strawberry. It became single bar made with all chocolate in 1945. It was marketed as the candy bar that was so big it could be shared with two friends.


3 Musketeers Chocolate Candy Bars - 36 bars


For the past 75 years, 3 MUSKETEERS® has provided chocolate lovers a light and fluffy chocolate treat, with 45% less fat than average of the leading chocolate brands. 3 MUSKETEERS® is owned by Mars Chocolate North America, a division of Mars Incorporated, one of the world's leading food manufacturers.
3 Musketeers Chocolate Candy Bars - 36 bars
©

*******
Candy 18ct boxes

**
Candy 24ct boxes

****

**

**
Candy 36ct boxes

*

*

****

***
Candy 48ct boxes

**
3 Musketeers Chocolate Candy Bars - 36 bars


3 Musketeers Chocolate Candy Bars - 36 bars