5th Ave Candy Bar
Box of 18 candy bars
5th Ave Candy Bar - 18 chocolate candy bars
5th Ave Candy Bar - 18 chocolate candy bars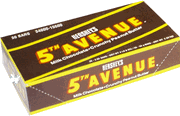 I

n 1936, William H. Luden, the cough drop maker, created the Fifth Avenue

Candy Bar

which is a combination of peanut butter crunch layers coated with chocolate. The original

5th Ave Candy Bar

had almonds, the new ones do not. The origin of the name seems to be lost to history. Our speculation is that the Mr. Luden was attempting to associate his elegant candy bar with that of fashionable 5th Avenue in New York City.
5th Ave Candy Bar - 18 chocolate candy bars
©

*******
Candy 18ct boxes

**
Candy 24ct boxes

****

**

**
Candy 36ct boxes

*

*

****

***
Candy 48ct boxes

**
5th Ave Candy Bar - 18 chocolate candy bars


5th Ave Candy Bar - 18 chocolate candy bars