Heath Candy Bar
Box of 24 candy bars
Heath Candy Bar - 24 chocolate candy bars
Heath Candy Bar - 24 chocolate candy bars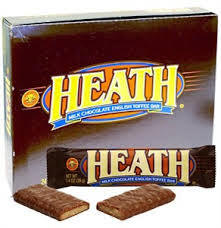 This Heath Candy Bars

classic milk chocolate toffee bar is designed to be savored slowly. Let each bite melt on your tongue as the richness of the toffee and chocolate blend together to create a Heath bar harmony

. Heath Candy Bars

are a pure pleasure to eat

with

the full-bodied buttery flavor of the toffee and captivating creaminess of the chocolate.


Heath Candy Bar - 24 chocolate candy bars


The Heath brothers opened its doors on January 7, 1914 in Robinson, IL. The confectionery did very well selling fountain drinks, ice cream and homemade candies. In 1915, L.S. Heath joined his sons in the family venture and the confectionery shop was expanded by adding new items on a regular basis.
Heath Candy Bar - 24 chocolate candy bars
©

*******
Candy 18ct boxes

**
Candy 24ct boxes

****

**

**
Candy 36ct boxes

*

*

****

***
Candy 48ct boxes

**
Heath Candy Bar - 24 chocolate candy bars


Heath Candy Bar - 24 chocolate candy bars