Gobstoppers Candy
Packs 24 boxes
Gobstoppers Candy 24ct Box - 24 candy Gobstoppers boxes
Gobstoppers Candy 24ct Box - 24 candy Gobstoppers boxes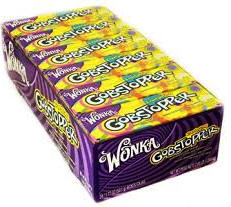 The original, EVERLASTING GOBSTOPPER is a yummy jawbreaker changing fruity flavors and flavor rings. Just as magical as WONKA's factory!
Gobstoppers Candy 24ct Box - 24 candy Gobstoppers boxes

Crack open a Wonka Gobstopper and what will you find? Layer upon layer of colorful hard candy, from the glossy outer shell right down to the innermost core. Sure, it looks pretty, but it's not until you start sucking away on a piece that the real show begins. That's when you realize each new layer also contains a fresh, fruity flavor to keep your mind reeling and your taste buds guessing. Satisfy your everlasting cravings with Wonka Gobstoppers!
Gobstoppers Candy 24ct Box - 24 candy Gobstoppers boxes
©

*******
Candy 18ct boxes

**
Candy 24ct boxes

****

**

**
Candy 36ct boxes

*

*

****

***
Candy 48ct boxes

**
Gobstoppers Candy 24ct Box - 24 candy Gobstoppers boxes


Gobstoppers Candy 24ct Box - 24 candy Gobstoppers boxes